I've been trying to figure out just what to do with the boys when the summer rolls around and the weekend at a theme park just isn't an option anymore. I asked Katie what she thought about getting a boat and the response I got was:
"No. We can buy a boat when we have a house on the lake or somewhere to store it or even something capable of towing one."
What I think she meant by that was, "We can have a boat if you figure out where to put it and how to tow it". Thankfully we're only a few miles away from the redneck paradise and there are plenty of amenities available to support boating on a dime. So I figured out where to store it, I even figured out that a CRV can tow up to 3,000lb. Quick trip to Uhaul for a hitch and a lot of online research and homework and.. we've got a boat.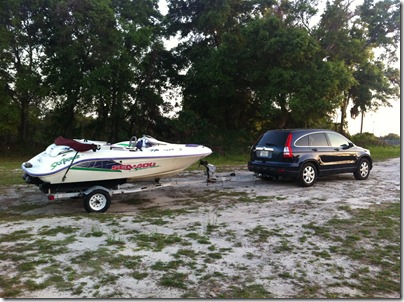 It's a Seadoo Speedster. It's pretty much a jet ski with seats. Supposedly it seats 5 people. Bimini top, CD and speed of up to 55 mph. I'm sure the kids are going to love it.