As I mentioned previously, Timmy and I are proud owners of season tickets to the University of Florida football games. We haven't missed one yet and they make for an awesome daddy-son days. We drive to Gainesville, watch cartoons on the way up, go shopping, eat at McAllisters and top it off with the actual football game which to a 2 year old is basically an orgy of junk food and awful music blasted as loud as possible.
Today was our first evening game so we spent the day hanging around Gainesville. Below is Timmy and a baby Gator.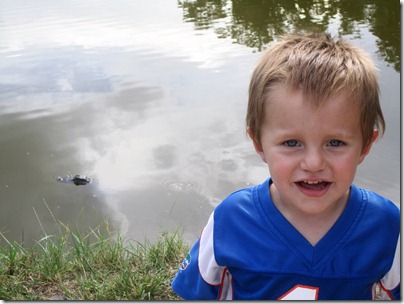 The whole baby-daddy Gator thing is my fault. One of the springs that ends up in Lake Alice starts right around Shands where I always park for football games. We pass this stream every time and there is always at least one alligator there. Once upon a time there were two – a big one and a small one. The big one was daddy gator and the small one was a baby gator. 
My explanation was that the daddy gator was right in front of us and the baby gator was sleeping in the water. Say bye-bye to the daddy gator, we'll come back after the game and wake the baby gator up.
Now. Imagine having that repeated to you about 50 times a day to/from work and you'll probably understand why Mrs. Mazek is not in any of these pictures :)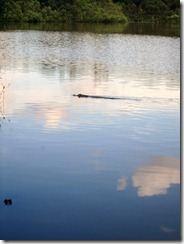 By the way, how many gators do you see in this picture? If your answer is 1, I recommend staying out of waters in Florida. That's a good advice even if you don't see any gators or snakes or turtles. Trust me, they are there.
First evening game.
Barely made it into the third quarter before passing out. Completely.
My wife made fun of me when she found out that I bought padded seats. Our kid has clocked several quarters of quality sleep – in rain, sun and now – night.
That last picture I just had to take. It's the picture of the Bull Gator Deck and Timmy's hands. Shot from under our seats.
Go Gators!