Our Disneyland vacation continued today. It started bright and early at the Disneyland Hotel in Goofy's Kitchen. It was pretty much an hour of Timmy trying to get characters to eat bacon with him.
We moved on to Disneyland. Spent a lot of time riding rides that we either don't have in Orlando or Katie never wants to ride with us. Namely, the rockets.
Saw Donald Duck on our way out!
Then we went across the street to California Adventure.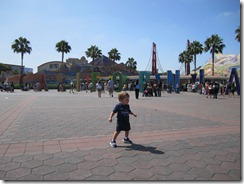 World of Color is California Adventure's new thing and absolutely the most amazing thing I've ever seen Disney do. If you've ever seen Bellagio's fountains in Las Vegas, this show makes that look like a lawn sprinkler. It's absolutely beyond comparison.
We played around the park for a little while and went back to the hotel for a quick nap.
Pixar parade was absolutely amazing. Timmy loves all the Pixar movies so this was just made for him. Me, not so much – floats shouldn't be spraying the audience with water. Just my opinion I guess.
The Simpsons joined us for dinner. Erick gave Timmy some chocolate cake and his attitude completely changed. He went from tired and cranky to energetic and happy. This continued until 11 PM so less chocolate next time around 🙂
World of Color. Wow. We got there about an hour early so Timmy sat in my lap and watched a Disney cartoon on my iPhone. Seems snobby, doesn't it? In Disneyland and still watching a Disney cartoon on an iPhone?
Finally, somewhat of a days long argument with the kid:
Timmy needs a hat, daddy needs a hat!
I don't need a hat Timmy!
No, no, no, no, no. Timmy needs a hat. Daddy needs a hat.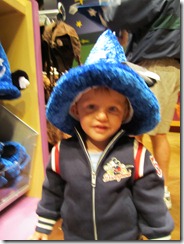 So there. One oversized hat – check. One happy monkey – check. Having a short attention span and not spending $30 on an unpractical piece of foam and public – priceless.
More Disney fun tomorrow.