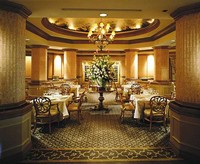 Just shy of our second month as man-and-wife, Vlad and I got to celebrate our 9th year together. After a honeymoon full of unbelievable food, it was only appropriate that we partake in one of Orlando's best restaurants. Vlad booked Victoria & Albert's for November 30th at 9pm. Victoria & Albert's is located in the Grand Floridian Resort in Walt Disney World. This is not a restaurant for the family. It is upscale, expensive, and truly an event. The menu is a seven course prix fixe for $115/guest. There is also a wine pairing for $60/guest which we didn't indulge.
Although you have several items to pick from I am sharing what Vlad and I ate. We both ordered Colorado Buffalo Tenderloin for our first appetizer and it was delicious. Vlad decided on the lamb with wild mushroom ragout for his second course and really seemed to enjoy it. I had the quail which was presented beautifully. The next course really blew the others out of the water. We both ordered the scallop with salsify and cauliflower. It is difficult to describe this. The scallop was so tender and buttery and was served with a froth of cauliflower that was divine. Truly unbelievable. For dinner, I ordered the short ribs while Vlad splurged on Australian Kobe beef tenderloin. Both were outstanding but I could definitely tell why someone would pay the extra $25 for the Kobe. I got the gelato for my next course and Vlad was brave (as always) and got the cheese plate. For dessert Vlad got the dark chocolate mousse pyramide and I had the chocolate souffle.
Overall, it was an amazing experience. It is definitely worth dressing up and indulging. The service is great and much like our experience at Club 33 – the staff is really personable and friendly. They aren't pretentious and will gladly make suggestions when asked. If you don't know something on the menu they are there to help.