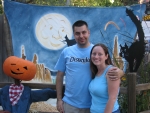 Dear Friends and Family,
We have made it to Maui!!! We're safe and sound and have a beautiful ocean view from our room. As a matter of fact, we can hear each wave splash. I wanted to share some (824 to be exact) pictures and videos from our pre-Honeymoon vacation from Los Angeles:
Pasadena and Six Flags Magic Mountain
Disney's California Adventure, Disneyland, Club 33
We are in Maui, having fun. Enjoy the pictures, hope to see you all at our party when we come back.
-Vlad