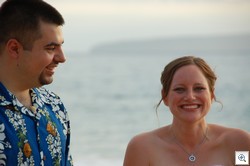 We're all partied out! Back in Orlando, putting together our place and beginning the process of unpacking. I just wanted to take a moment and say a huge thank you to everyone that was able to make it to our party. We really had a great time, it was nice to catch up with everyone, share all the happy moments we've had as a married couple so far, get great advice from people that have been married for some time….. and meet some of the family for the first time or at least under the happy circumstances for the first time.
So, again, thank you all for coming!
-Vlad
P.S. I know almost everyone asked to get a copy of the pictures. If you put your email address on the RSVP form, you'll get an email with the username, password and the gallery address. Sorry, but certain things have to remain private and I can't post all our albums here in public.